Holly and Pete - a beautiful waterbirth at Stroud Maternity
"
Having Sinead as our doula was an integral part of our pregnancy and birth experience. She was calm, knowledgeable, reassuring and unassuming. She was invaluable to us as a birth companion, and I am certain that my dream birth experience was made possible thanks to her. Such was her professionalism and ability to work with everyone involved in the birth, that the midwives have since asked for her details to recommend to others. I give her my highest recommendation.
"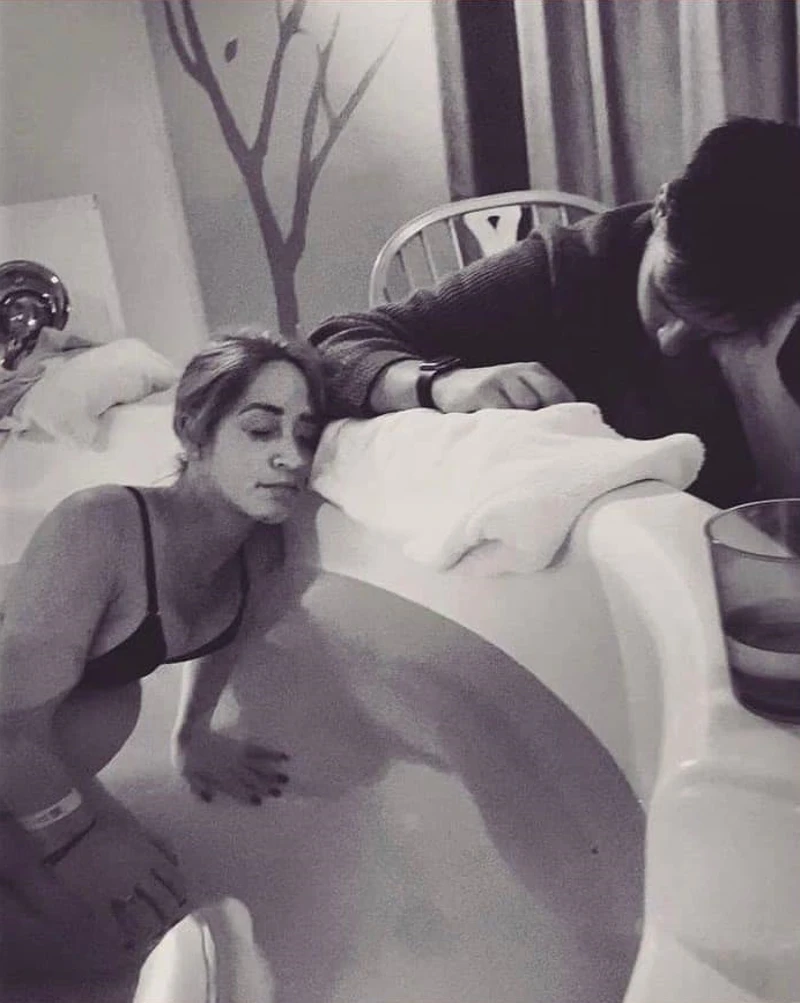 I had the immense honour and pleasure to be asked as Holly and Pete's birth Doula. Their gorgeous little boy was beautifully and calmly born into water at Stroud Maternity in Dec 2021. 
Holly writes about her birth experience here:
"From very early on in our pregnancy, we had our hearts set on a Stroud birth, so when I got the green light to move to midwife led care at 24 weeks, we couldn't have been more delighted.
But as my due date came and went, the days became ridiculously long, and I feared we may have to accept a change of plan. We have since learnt that patience is paramount, as at 40+6, labour started naturally.
I woke at 10pm on Friday night to what I initially thought was strong Braxton Hicks contractions. Half an hour later, I woke again to more cramping. I still didn't believe it might be labour, until I felt another cramp 20 minutes and then 15 minutes later, both lasting 60 seconds.
We decided it was time to call Stroud. The lovely midwife Julia answered the phone and explained that we should make our way to the hospital when contractions were 4 minutes apart consistently for an hour. Julia advised that this typically could take another 4 hours or so.
Surprisingly, this was not the case for me. The contractions halved in their time apart and at 1am they were just 3 minutes apart, so off to stroud we went. 
The car journey didn't slow down the contractions, they came thick and fast every 2 minutes. On arrival at Stroud, Julia greeted us with the warmest of welcomes and took us to the birth suite, where we also met Sinead, our wonderful Doula. It was so relaxed in the suite, with aromatherapy oils, dimmed lighting and the birthing pool being filled. I knew instantly that I'd made the right decision to birth at Stroud, as Julia took time to understand my birth plan before being offered an examination which revealed I was 7cm dilated already.
The pool took 40 minutes to fill, by which point I was desperate for the relief that I knew the water would provide. I got into the pool and was very active, but after 2 hours, it was clear things weren't progressing.
I got out the pool and Julia advised that baby was in a slightly off centre position and so alongside Sinead, they tried some biomechanics to try and improve the position. Baby had other plans though, and decided to take the scenic route into position, travelling around my spine for the next 8 hours. 
Julia's shift subsequently came to an end, and she handed over to the equally lovely Zoe, who, even in a brief moment of resignation, gave me the motivation I needed to keep going. She knew the finale was in sight. I spent the next 40 minutes being as active as possible while the pool filled once again, and Sinead and Zoe were brilliant at advising on good, upright positions to help with pain and progress. 
Once back in the pool, Zoe gave us plenty of privacy, intermittently checking my progress. Sure enough, at around 9am (11 hours after my first contraction) I felt the overwhelming sensation to push. Sinead suggested I listen to my body and go with it. I could feel pushing was making a difference, and when Zoe returned to the room, she excitedly said that I was fully dilated. It was time to start pushing.
After around an hour of strong contractions, I delivered in the water, not something I had planned but it felt so right. I was on cloud 9 when I brought baby to the surface and revealed we had a little boy - to be named Arthur. Under the careful guidance of Zoe and Sinead, I felt so composed and controlled in the final few pushes, which helped contribute to very minimal trauma and no stitches. 
A few hours later, Kim, our community midwife happened to be on call in Stroud and was able to pop in and see our new arrival. We then enjoyed an amazing 24 hours being looked after by the incredible team at Stroud, including Julia who returned on her second shift to give Arthur plenty of cuddles. It really was my dream birth experience, and I can't thank the team enough for all that they did for us. I feel so lucky to have given birth at such a magical place. One that is imprinted on our hearts forever."